Lens Insertion Machine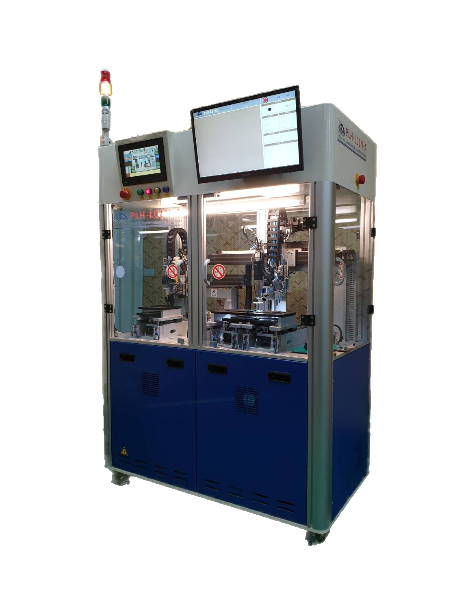 In camera modules production, the lenses are required to be assembled with the lenses holder at very high precision. This machine accepts separate feeding of lenses and lenses holder and then inserts the lenses into the lenses holder by using computer vision to aid the process. The height of lenses to be inserted into the lenses holder is controlled by using a precision probe (or laser as an option). And the torque required to insert threaded lenses into the lenses holder is also controlled precisely.
Until recently, this assembly process has to be completed using semi-automatic machine with manual labor which inevitably increases the likelihood of damaging the camera module resulting in lower yield. This system is ideally designed to be used in a mass production environment.
The short cycle time can be achieved by an optimized operation sequence. The system is designed with ease of use and trays can easily be placed inside or removed from the system. The assembled parts are then orderly placed in the output tray without any intervention of an operator. This not only significantly increases the throughput and the yield but at the same time avoid any human errors or any unnecessary risks of contamination from the operator.
The automated lenses insertion system is equipped with clean room FFUs that can be placed inside any cleanroom environments. It is the perfect solution to increase your production throughput while boosting a higher quality of the final product.
Model: PLH-L01N System Specification
Cycle Time less than 5 second
Motor System is servo-based
Supports Lenses Sizes: ψ2.8mm~ψ15mm
Lens Height Accuracy: ±0.025mm
Lenses Assembly Torque Control: 0-5000 gf-cm; resolution ±1.0gf-cm
Power: 3-phases, AC 220V, 50/60Hz
Power Consumption: 2.0KW
Dimensions: 1100(L) x 700(W) x 1700(H) mm
Weight: 300Kg
Optional FFU for clean room operation